AUTEL MaxiPRO MP808S Diagnostic Tools OBD2 Automotive Scanner
Autel MaxiPRO MP808s Specifications
• Extensive vehicle coverage for more than 80 US, Asian and European vehicle makes
• Exceptional OE-Level system coverage for all electronic systems
• Read and erase codes, view and graph Live Data, perform bi-directional Active Tests, and perform adaptations
• AutoVIN technology automatically identifies vehicle make, model, and year
• Wi-Fi-enabled automatic software and system updates
• Powerful Cortex-A55 processor (1.8 GHz) processor
• 7-inch LCD capacitive touchscreen with 1024 x 600 resolution display
• 64GB on-board memory for better performance
• Android 11 operating system for fast boot-up and multitasking
• Cloud-based Report Management allows you to view, save, print, and share reports on mobile phones, tablets, and computer browsers
• One-stop multitasking designed for ideal management of workshop operations to keep all data files, customer info, and vehicle records well organized
• Convenient data management system for managing internal program applications and reviewing data
• Compatible with Videoscope
• Instant remote control tech support anytime, anywhere
• Interactive Data Logging sessions enable direct contact with Autel Technical Support for first-hand troubleshooting of diagnostic bugs and errors
Active Test & Bi-Directional Control
By passing the electronic control module and communicating directly with the control unit is an efficient diagnosis method.
The car scanner can perform active tests to check the vehicle's running states by receiving information from car computers or by monitoring actuators (e.g., switching solenoids, relays, or on-off between two operations) to control the system or parts (e.g., ABS, windows, doors, roof).
Autel MP808S can access ALL vehicle systems and subsystems, such as Body, Chassis, Powertrain, Network and etc., to perform a comprehensive scanning on ECUs to locate fault systems and retrieve DTCs.
1. To diagnoseBrake Systemif you feel the brake pedal is mushy and notice unusual odour or noise, etc. A properly operating brake system is critical to ensure safe vehicle control and operation;
2. To diagnoseEmission Systemif the system is affected by vehicle age or poor quality fuel. A good emission system reduces harmful gases to a large degree and protects you from being fined;
3. To diagnose the fuel system if the vehicle won't start or the "Check Engine" light is illuminated. Check the car's fuel system regularly ensures the best performance of your vehicle with the lowest emissions;
4. To diagnose transmission if your car is slipping or difficult to shift. The system plays an important part in the overall performance of your car;
5. To diagnose the Wiper system, you observe a chattering or streaking wiper. If the car is not regularly checked, the accident might happen because you can't see clearly;
6. To diagnose the Light system, you see a rapid signal blinking or dimming lights.
And many more …
1. Autel MaxiPRO MP808S is an Upgraded version of Autel MaxiPRO MP808
2. OEM A Systems Diagnostic Tool and 30+ Reset Service.
3. Full Bi-directional Control + 4X Faster Diagnostics Speed
4. Support MV105 Inspection Camera
Autel 105 MaxiVideo Inspection Video Scope is compatible with MP808, maximizing the potential of MP808 to examine and clean difficult-to-reach car areas, such as spark plug holes, engine cylinders, and other small parts, quickly and safely.
Note: MV105 need to buy separately.
5. More Language optional
English, German, Spanish, Japanese, Portuguese, Dutch, French, and Italian.Korean, Russian, Polish, Swedish, Persian, Turkish, Thai, Vietnamese, Hebrew, Arabic, Indonesian
After you get the product, please tell us your SN of the machine to activate the language you need.
The SN can be located on the back of the device's body or in the following menu path "Maxisys-> Settings -> About Us"
6. Support Guided Functions
Audi,FAW Audi,VW,VW_Brazil,Shanghai Volkswagen,FAW-Volkswagen,Skoda,Shanghai Skoda,Jetta,Seat,Man_LD
7. Support Offline programming
LandRover,Jaguar
8. Advanced ECU Coding ‒ Level up Your Repair Skills & Work Efficiency
As the newest diagnostic tool, Autel MaxiPRO MP808S supports advanced ECU coding to help mechanics/technicians customize cars faster and more securely than snap-on tools, significantly improve work efficiency, and meet customers' needs.
Online Coding
enable you to access the online data from the OEM server to do high-level repairs, such as online coding for BMW, for VW, for Porsche, for Infiniti, for Nissan, for Nissan-GTR, Hyundai, etc.;
Offline Coding/Adaptation
read the code from the original module, and then write the code to the new module, such as Offline Adaptation for Ford, for Mazda, etc. Offline Coding for Jaguar, for Vauxhall, for Opel, etc.
ECU Replacement
match/ learn/ initialize adaptive data for certain components after module replacements.
Refresh Hidden Functions
activate the hidden features or disable the annoying parts, such as the auto side mirrors folding function, automatic engine Start-Stop function, etc. Compatible with BMW, VW, A-u-d-i, Skoda, etc.
Modify Cars
help mechanics/technicians modify the cars, like installing car courtesy lights.
NOTE: ECU Coding is NOT universally compatible with all vehicles and varies depending on the make, model, and year.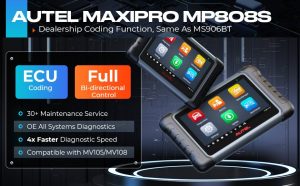 Vehicle Coverage
More than 80 Brands, USA/ Europe/Asia vehicles.
AU Ford, Holden, Buick, Cadillac, Chevrolet, Chevrolet MPV, Chevrolet Truck, Chrysler, Ford, Geo, GM, Hummer, Hyundai, Kia, Pontiac, Satum, Scion, Workhorse, Acura, Daihatsu, Honda, Infiniti, Isuzu, Lexus, Mazda, Mitsubishi, Nissan, Subaru, Suzuki, Toyota, Daewoo, Abarth, Alfa Romeo, Audi, Bentley, Benz, BMW, Bugatti, Citroen, CnFiat, Fiat, Jaguar, Lancia, Lamborghini, Landrover, LT3, Maybach, Mini, Opel, Peugeot, Porsche, Renault, Rolls-Royce, SAAB, Seat, Skoda, Smart, Sprinter, Vauxhall, Volvo, VW…
SPECIFICATION:
Operating System: Android 11
Processor: Cortex-A55 quad-core processor (1.8GHz)
Memory: 4GB RAM & 64GB On-board Memory
Display: 7-inch LCD capacitive touchscreen with 1024×600 resolution
Connectivity: Wi-Fi(802.11a/b/g/n/ac)
USB 2.0, Mini USB 2.0
SD Card (Support up to 64GB)
Sensors: Light sensor for brightness auto adjust
Power and Battery: 3.7 V/5000mAh lithium-polymer battery
Charges via 5 VDC power supply
Input Voltage: 5 V/1.5 A
Operating Temp: 0 to 50°C (32 to 122°F)
Storage Temp: -20 to 60°C (-4 to 140°F)
Dimensions(WXHX D) : 270.8 mm (10.0") x 176.0 mm(6.9") x 36.0 mm (1.4")
Weight: 885g (2.31 lb.)
Protocols:
ISO9141-2, ISO14230-2, ISO15765, K/L-Line, Flashing Code, SAE-J1850 VPW, SAE-J1850PWM, ISo11898(Highspeed, Middle speed, Low-speed and Singlewire CAN, fault-tolerant CAN) SAE J2610, GM UART UART Echo Byte Protocol, Honda Diag-H Protocol, TP2.0,TP1.6