LAUNCH CR629 OBD2 Car Scanner Engine SRS ABS Airbag Diagnose Active Test Code Reader Oil SAS BMS Reset Car Scanner
LAUNCH Creader CR629 is an Enhanced OBD2 scanner designed for Engine, ABS, and SRS monitoring. You can troubleshoot emission-related issues via the full obd2 functions. Built with top-level Actives tests and ABS & SRS diagnoses, this scanner monitors the running condition of ABS and SRS to keep your car at peak performance better. If you want an easy-to-use and feature-rich car scanner, LAUNCH CR629, equipped with a 3.5-inch display, is the first tool you need to have.
Read / Clear DTCs – Read the diagnostic trouble codes to know the cause of the warning light and the vehicle faults. After repairs, you can clear the DTCs to turn off the ABS or SRS indicator light.
Read Live Data – Retrieve the real-time data stream for deep analysis, including coolant temperature, MAP value, TPS value, vehicle speed, mass air flow, ambient temperature, engine rpm, etc..
Perform Oil Reset After Oil Change
Oil change and reset are necessary, usually about once every 300 miles. Changing new, clean oil for your car is the most direct way to ensure your car runs smoothly and eventually. And using the LAUNCH CR629 to reset the oil light is essential for avoiding missing the following oil change.
Recalibrate SAS After an Alignment
It is important that whenever there is a change to the steering system, the steering wheel angle sensor is reset or recalibrated. This hand-held car scanner can calibrate the sensor to offer accurate information connecting the steering wheel with the wheels, keeping the normal running of the ESC (Electronic Stability Control) module also your car.
BMS service
BMS service helps clear the unhealthy status memories of replaced battery in ECU and helps ECU get the knowledge of new battery to record its status
Full OBD2 Functions are Ready for Engine Checking
CR629 car scanner supports Full OBD2 Functions, including Read/Erase Codes, Live Data, Freeze Frame Data, I/M Readiness Status, O2 Monitor Test, On-Board Monitor Test, Component Test, and Vehicle Information Retrieval.
Locate Emission Problems – Full Obd2 functions significantly determine the root cause. The diagnostic information is comprehensive, reliable, accurate, and valuable for reference.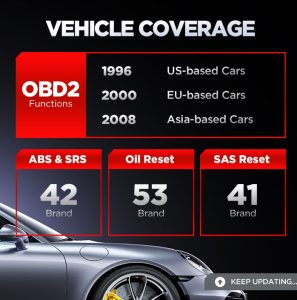 Car Coverage:
Europe:
Audi, Benz, BMW, Citroen, Dacia, Fiat, Jaguar, Land Rover, Mini, Opel, Peugeot, Porsche, Renault, Saab, Seat, Skoda, Smart, Sprinter, Volvo, VW, Europe Ford, Alfa Romeo, Vauxhall.
Asia:
Acura, Daewoo, Honda, Hyundai, Infiniti, JP Isuzu, Kia, Mazda, Mitsubishi, Nissan, Subaru, Suzuki, and Toyota.
America:
Chrysler, GM, USA Ford.
Australia:
Holden, Australia Ford.