TOPDON ArtiDiag600S OBD2 Scanner Automotive Diagnostic Tool Code Reader
Update with No Costs
The software within this OBD2 code reader can be updated on demand throughout its lifetime at no extra charge, saving you over-paying insane money for other scan tools that require a yearly subscription. With just one click, you can bring upcoming car models within its fold.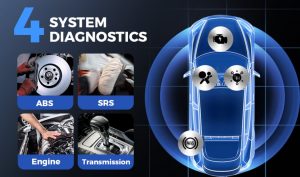 4 Systems Diagnostic Tool
1. Engine
The car scanner can read& erase DTCs, turn off the check engine light and view live data, allowing you to pull the error log from the engine system immediately. Quickly determines the cause of common faults of Poor lubrication, Failing oil pump, Oil deposits and debris, Inadequate fuel and air compression, Leaking engine coolant, Blocked engine radiators, Prolonged engine detonation, Damaged oxygen sensors, Aged spark plugs, etc., to avoid engine breakdowns, or even require a brand-new one.
2. Antilock Braking System(ABS)
This AD600S scan tool is also designed to work with the anti-lock brake system (ABS) in the same way as basic code readers communicate with the engine. It will pull the diagnostic trouble code of causing the ABS lights to come on. Common problems include blown sensor fuses, low brake fluids, and faulty sensors. Once the problem has been fixed, you can use this ABS diagnostic tool to reset the ABS lights.
3. Airbag System (SRS)
To prevent serious harm or death in case of an accident, this SRS diagnostic scanner makes the car work safely and correctly by reading and clearing any fault code in the SRS (Airbag) system and then turning off the airbag's warning light.
4. Transmission
Ignorance of a gearbox problem will lead you to a tremendous maintenance cost. To keep the transmission system output closely linked to the load and speed, this scan tool views live data, reads and clears codes in transmission systems, and turns off the warning light.
Supports 8 Maintenance Services below:
1. Oil Reset(for 53 car brands)
You can use thisOBD2 scanner to reset the oil maintenance minder system: reset the oil service light, and program oil life change intervals. It can also turn off oil change lights. This function is convenient for mechanics having to reset a multitude of oil lights every day.
2. BMS Reset (for 31 car brands)
Does your car system still hold the old battery parameters and treat the new battery like an old one? Use this service to evaluate the battery charge state and register the new replacement.
3. ABS Bleeding (for 34 car brands)
This car scanner can check the operating conditions of the Anti-lock Braking System (ABS). It helps remove the trapped air, improves the brake system's performance, and ensures your car remains safe to drive.
4. DPF Regeneration (for 39 car brands)
This diagnostic tool can manage DPF regeneration to clear the blockage by continuously burning the particulates captured in the filter. With AD600S, you can get rid of stored soot and even find faults in the DPF system without hassle.
5. Brake Reset (for 41 brands)
Cars and trucks with electronic parking brakes can be a pain to service without a scan tool allowing you to retract electric parking brake callipers. This feature will enable you to reset the brake pad after the replacement.
6. TPMS Reset(for 36 brands)
When replacing TPMS sensors can quickly look up the tire sensor IDs from the vehicle's ECU, reset tire pressure and turn off the tire pressure MIL.
7. Throttle Adaptation (for 37 car brands)
This scan tool can make initial settings to throttle actuators, so you'll have smooth driving after the throttle body has been replaced or cleaned.
8. SAS Reset(for 44 brands)
This feature helps erase the record of the old steering angle sensor and overwrite it with a new one. This is the function that is not frequently found on cheaper scan tools. It is important that your steering stays aligned and vital to ensure that the driver-assistance system works appropriately.
4-in-1 Graphic Live Data
4 live data streams can be merged into one graph for easy and intuitive car diagnosis. This OBD2 scanner also gives you the details of the fault code so you don't have to search for it online. And you can select the code to have its definition in the Diagnostic Trouble Code (DTC) lookup library.
**The function list depends on your car's make, model and year. Reach us for details.